Introducing Sashing Stash

The Sashing Stash fabric collection, designed by Eleanor Dugan and produced by Riley Blake Designs, offers a unique concept in quilting fabric. Five different classic border motifs have been geometrically engineered to fit together in countless ways to jazz up both traditional and contemporary quilts. Designed to provide quick sashing and borders, as well as replacing weeks of piecing on traditional designs, the Sashing Stash collection includes 12 fabrics in three basic colorways: black and white, blue and white, and red and off-white.

Why Sashing Stash?
Sashing Stash is arguably the most useful contribution to quilters since rotary cutters. Yet, some people will walk right past this odd-looking fabric. That's because they haven't a clue what it is or does. Sashing Stash has a little learning curve—fortunately more of an "Aha!" followed by escalating excitement and enthusiasm.
The minute quilters grasp the concept—how the geometric strips divide into classic sashing and borders that add dramatic power to both traditional and contemporary quilts—they are hooked. I've seen it happen over and over. Whenever I've explained the concept to both fledgling and veteran quilters, their expressions go from dubious to exuberant as their minds start racing. "No more wad of little seams on the back of my piecework!" one will cry. "I could try a quilt I never thought I'd have time for," another says. Within minutes, they are sharing their own ideas for ways to use the fabric, often things I'd never thought of that expand my own ideas. Our sharing becomes an exhilarating escalation of creativity.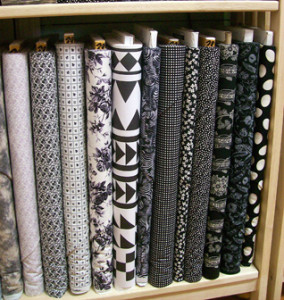 Sashing Stash grew out of my own need to solve a problem. During two decades as a Broadway and Hollywood film costumer, I was always looking for quick, simple ways to achieve dramatic results. And, as an avid quilter starting in 1971, I began haunting fabric stores, seeking a fabric like Sashing Stash that could do the same for quilts. Finally, I realized that if it was to be done, it was up to me to do it. Happily, I found Riley Blake Designs who shares my vision and has launched my first line of fabrics, Sashing Stash.
Looking for Time?
One of the things I always want is more time! Time to execute the dozens of quilt ideas banging around in my brain. I designed Sashing Stash to provide the graphic sizzle of complex geometric designs in my quilts, without the time demanded by intricate piecing. Sashing Stash frees up time for me to experiment with perspective, depth, color, and embellishment so I can get the graphic impact I love. Working with Sashing Stash allows me more exploration time and creativity than I'd ever thought possible!
Want to add complexity to your quilts without all the aching hours it usually takes? Riley Blake's Sashing Stash video shows how Sashing Stash can help.


When Duty Calls…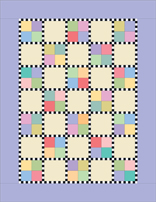 You know how, right when you're busiest, you get a phone call asking for a duty quilt, or what I lovingly call a "guilt quilt"? This is when people you care about—family, coworkers, and friends—know you're a quilter and assume you are eager to come up with a quick quilt for a birthday, baby, wedding, graduation, retirement, anniversary, shower, charity event, or other special occasion. Often the presentation is just days away!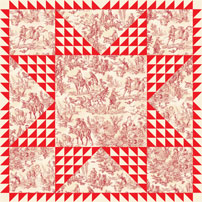 We'd all love to maintain our creative reputations by designing and making a gorgeous quilt every time we're asked, but it's just not possible! Sashing Stash becomes our secret weapon, providing time-saving dazzle for both contemporary and vintage quilt-quickies.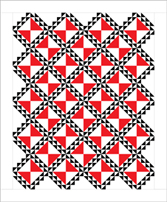 These quilts are so much easier with Sashing Stash. With just a few yards, you can turn out a quilt top in just a few hours. Let the designs shown here inspire you; select fabrics from your scrap stash or use up leftover blocks from other projects; add sashing and/or borders cut from Sashing Stash. Any way you choose, Bam! You've got a striking quilt for the occasion that maintains your reputation as a talented quilter.

No More "Good Enough"
There's an equation that applies to any labor-intensive creative process. Roughly put:
The amount of time and effort acquired to achieve a result (X) is inverse to a quilter's willingness to abandon a piece and start over (Y) times the degree of dissatisfaction with the results (Z).
1/x = YZ
Thus, Sashing Stash has the potential to let you take charge of your creative process and liberate you from "that will have to be good enough." Of course if something is a disaster, nothing like what you envisioned, you will banish it to the "Art Parts" box and start over. But when the margin is narrow—almost perfect, but not quite—then whether the work took you an hour or a week may be your deciding factor. It's much easier to start over and lose a short amount of time than it is to sacrifice weeks of work when something fails to jell. Your ability to let go and try for something better is multiplied many times over when Sashing Stash has speeded your construction process.
Acknowledgements: Sashing Stash could not exist without the enormous contributions of several enthusiastic supporters, principally brilliant and patient graphic artist Ann Marra of Colfax, WA along with patient and brilliant computer expert Pam Winter of San Francisco. Boosters Sue Fox of Berkeley, CA, Jill Coogan of Washington, D.C., and Dani Lawler of San Francisco have made the long journey with me and been indispensable. Thanks to all for their constant support and belief in the value of the concept and their unrelenting optimism and support.