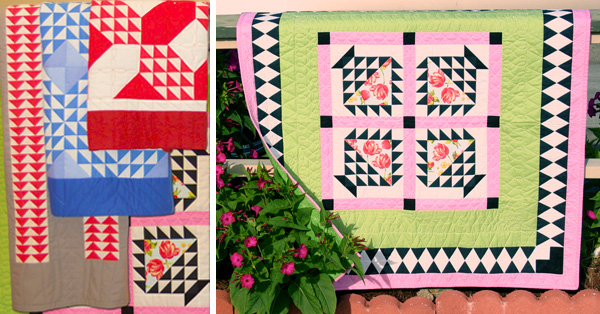 Free Patterns
Riley Blake Designs is offering free PDF downloadable instructions for four quilts designed by Ann Marra and made with Sashing Stash.
Cinnamon Sticks
This design in red suggests Christmas or Valentine's Day, but overdyeing will offer many variations. (Think royal blue dye for a faceted purple and blue amethyst jewel.) With Sashing Stash minimizing the cutting and piecing, a top this size can easily be done in an afternoon.


Geese Take Flight
When Sashing Stash "geese" are used with solids, the simple sophistication of this quilt is a winner. Or consider using a small print for a charming baby quilt, or a cheerful floral for a feminine touch. This design is readily adaptable to all sizes from baby to king-size.


Ocean Waves
Piecing this classic design could take weeks, but with Sashing Stash, the top goes together in an evening. The triangles using two blues close in value are the secret to making the blue squares shimmer. Simply quilt along the Sashing Stash design and in the ditch to bring out the distinctive geometry.


Spring Quartet
What gifts are more welcome than baskets of flowers! The time you save swapping Sashing Stash for the usually labor-intensive piecing, you can use for elaborate quilting; or simply tie it and start another quilt top in the same evening.


Coming Next
As we go along, we'll be working hard to add more patterns for Sashing Stash projects. The construction of some quilts will be self-evident to experienced quilters. Others will require detailed instructions which we hope to provide.
If you've seen a particular quilt image on this site that especially intrigues you and you seek a pattern, please "Join the Conversation" on the Contact Us page and let us know. We'll do our best to move your request to the top of the "Coming Next" list.