Quilt designer Sue Fox of Berkeley, CA has been a longtime booster of Sashing Stash, so when I had finished my sample quilts for Riley Blake Designs, I gave her my scraps to play with, and she came up with 10 dramatic blocks. It just seemed natural to make pillows and tote bags out of them. The possibilities are endless!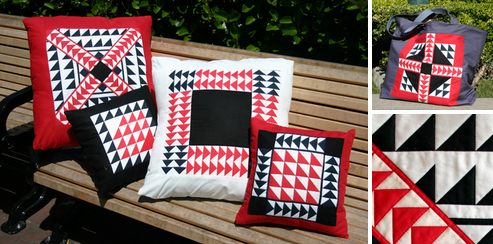 The photos above show five of Sue's blocks, meticulously quilted in-the-ditch by Jennifer Goheen of Vallejo, CA.
There are plans for even more quilts, little girls' dresses, curtains, table runners, toys, and more with the energetic dynamics of Sashing Stash geometrics.