"This was the second design I chose (after Geese Take Flight) when I decided to make 2 Sashing Stash quilts to take to a local quilt show. I loved the colors in the sketch of this quilt by graphic artist Ann Marra on www.SashingStash.com. I had no pattern, but am making one now with Ann's help, and we hope to offer it through my shop."
Margo Balzarini, Colfax, WA, PalouseRiverQuilts@gmail.com
Original design and striking color idea: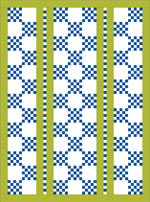 This was Ann Marra's original design illustration for Secret Garden, used as the inspiration for Margo's quilt.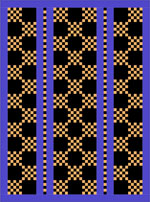 A striking color idea: When selecting a version of the Secret Garden image on her computer screen, Sashing Stash booster Jill Coogan noticed this great inverse color combo. So here's another possibility: Overdye the black and white checkerboard Sashing Stash with gold dye (the digital inversion of the Sashing Stash blue produced a wonderful antique gold on the computer screen). Construct the quilt using purple banding. Wow, Jill got it!